Alyson Vander Steen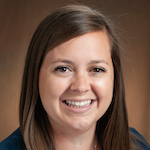 North Dakota State University, Assistant Athletic Director - Marketing and Fan Engagement
Alyson Vander Steen was hired as NDSU's assistant athletic director for marketing and fan engagement in June 2018.
Vander Steen oversees the marketing and promotional activities for NDSU athletic events, implementation of ticket promotions and sales plans, advertising campaigns, in-game entertainment, social media efforts, the multimedia department, and community and statewide outreach events.
She joined the Bison after three years in a similar role at Augustana University in Sioux Falls, SD, where she was the assistant athletic director for marketing and tickets. She led three award-winning projects in revenue generation and video board content.
Vander Steen also spent three years at Westminster College in Salt Lake City as the director of marketing and events, where she was part of the athletic program's transition from NAIA to NCAA Division II.
Vander Steen earned a bachelor's degree in marketing from Westminster College and holds a master's of business marketing from Bond University in Queensland, Australia.