Amy Huchthausen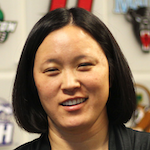 America East Conference, Commissioner
The 2019-20 academic year marks Amy Huchthausen's ninth year as commissioner of the America East Conference where she has increased the conference's profile through expansive media partnerships, a robust social and digital media strategy, and a progressive approach to the student-athlete experience.
Under Huchthausen, the conference secured an 11-year agreement with ESPN providing a digital streaming home for a majority of its live content. Additionally, the league has been at the forefront of other digital and social media partnerships with emerging technologies such as Reely and INFLCR through her presence in the sports technology and media communities. As a result, the conference has maintained its leadership position among its peers, while strengthening the America East brand.
Early in Huchthausen's tenure, America East unveiled a comprehensive rebranding initiative that more effectively positions the conference, including a brand platform centered on "Building the Complete Student-Athlete." She has launched new initiatives such as the #3Pillars Academy, Alumni Network, Academic Consortium, and the conference's Health & Safety initiative with a focus on mental health awareness. Additionally, the league has become a leader in diversity and inclusion by being the first Division I conference partner of the You Can Play Project, first conference member of the LGBT SportSafe Founders Club, and through a recent partnership with the Ross Initiative in Sports for Equality (RISE).
Huchthausen is currently active in the Stadia Ventures community and has previously served on the Women Leaders in College Sports Board of Directors and numerous NCAA committees during her career. Notably, she was recognized as a 2016 'Forty Under 40' honoree by the Sports Business Journal, after being honored as a 2015 'GameChanger' by the same publication.
Huchthausen has previously worked at the NCAA, America East, ACC, Missouri Valley, and Big East. She earned her undergraduate degree from the University of Wisconsin-La Crosse where she played softball. In 2018, she received her M.B.A. from the MIT Sloan School of Management, where she was recognized by Poets & Quants as one of the Class of 2018's 'Best & Brightest Executive M.B.A.s' in the country.