Artie Kempner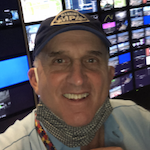 Fox Sports, Director
Artie Kempner is in his 26th year with Fox Sports. The 12-Time Sports Emmy Winner directs NFL and NASCAR for the network. Kempner worked for CBS Sports from 1982 – 1994, before coming to Fox Sports as part of the start-up of the network after acquiring the rights to the NFL in 1993. He directed Super Bowl XXXIX (Eagles vs Patriots) and Super Bowl XLII (Giants vs Patriots), as well as 17 Daytona 500s.
Over his 33 year career as a director, Kempner has directed the Masters, the US Open, the PGA Championship, US Open Tennis, the NCAA Basketball Tournament, the NBA Playoffs, and three Olympics (1992, 1994, and 1998).
Kempner is currently directing Fox's NASCAR coverage since the re-start of the season due to the pandemic.
He is also the founding president of Autism Delaware and the chairman of the Drive for Autism charity golf event. The event has raised over $7 million for programs, services, and research.
Autism Speaks has honored Kempner's work for the autism community, where he received the organization's first "President's Award." He was also recognized by the racing industry as a finalist for the Comcast Community Champion Award and Home Depot Humanitarian Award. Kempner was the driving force for the Fox Sports Supports Program initiated by the company in 2007.
List of major events directed:
12-time Emmy Winner, including four for Best Series for coverage of NASCAR
Super Bowl XXXIX & XLII
NFL Network Thursday Night Football (2010-2013)
NBC's NFL Playoff Coverage (Emmy Award in 2012)
While at CBS – Kempner directed the NFL, Masters, PGA Championship, NBA, Winter Olympics Skiing (1992 and 1994) and Ice Hockey (1998), NCAA tournament, US Open Tennis, and many other NCAA championship competitions and sports anthology events.
NHL on Fox: 1995-99
NBA on Turner: 1996-2001
64-time Sports Emmy Award Nominee
Indy Car Racing
Directed Opening The Lost Tombs Live from Egypt on the Fox Network (three Emmy Nominations)