Dan Butterly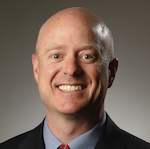 Big West Conference, Commissioner
On June 1st, 2020, Dan Butterly was named the fifth commissioner of the Big West Conference. Butterly was previously the senior associate commissioner of the Mountain West Conference, where he worked for the last 21 years. He served as the primary sport and championship administrator for Mountain West men's basketball, acting as liaison between coaches and institutional administrators, athletic directors, Joint Council, and Board of Directors on all men's basketball-related issues.
During Butterly's tenure with the Mountain West, he served on the NCAA Division I Men's Basketball Issues Committee, NCAA MCBO Board of Managers, the NCAA Football Promotions and Brand Marketing Committee, and the branding committee to name and create the brand image for the new College Football Playoff. He is currently the chair of the College Football Playoff licensing committee.
Butterly's extensive experience includes working with all Mountain West broadcast entities on the development of the basketball schedule, member institutions on non-conference schedule strategy and improvement, and on matters related to technology, research/data/analytics, game management, officiating, and instant replay. Butterly also worked in tandem with sponsorship rights holder Learfield Sports on all aspects of the Mountain West corporate partnership program and served as a point-of-contact for all MW partnership items.
He also has handled tournament manager duties for the 2004 (1st/2nd), 2008 (1st/2nd), 2011 (2nd/3rd), and 2016 (1st/2nd) NCAA Division I Men's Basketball Championship sites, as well as the 2012 NCAA Women's Final Four at Pepsi Center in Denver.
Butterly, a native of Washington, IL, directs the continual development and expansion of the Mountain West Radio Network, which currently produces weekly football and basketball shows, as well as every game of the MW Basketball Championships. He has been directly involved in marketing, licensing, merchandising, and branding throughout his Mountain West tenure.
Prior to its partnership with CBSSN, Butterly served as executive producer of the MWC-TV Network (2000-06), which broadcast regular season women's volleyball and women's basketball events, as well as women's soccer, women's volleyball, and women's basketball championships.
Butterly, who received his bachelor's degree from Illinois State University and his Masters of Sports Administration degree at Ohio University, arrived at the Mountain West after nearly six years with the Missouri Valley Conference (The Valley). He joined The Valley staff in 1993 as a marketing intern and was promoted to director of marketing in 1994, then to assistant commissioner in 1998. His duties at The Valley included managing the league's corporate sponsorship efforts, overseeing the merchandising and licensing program and administering marketing and promotions for all conference championships. He managed the rebranding of the Missouri Valley and transition to "The Valley" logo which is still utilized today.
In addition to his Missouri Valley marketing duties, Butterly coordinated the league's schedule and officiating for men's basketball. He served as the tournament manager for the MVC men's basketball championship from 1994-99 and the game management director for the 1998 and 1999 NCAA Men's Basketball Midwest Regionals hosted by the MVC in St. Louis.