John Servizzi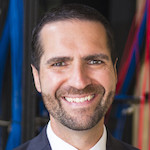 Tupelo Raycom, EVP, Engineering and Operations
John Servizzi is co-founder and executive vice president for engineering and operations at Tupelo Honey. An award-winning producer turned above-average engineer, Servizzi established WebStream Sports in 2006, bridging experience in high-level sports television production and high-quality, low-cost digital production methods.
WebStream was acquired by Raycom Media in 2015 and in 2019 Raycom was acquired by Gray TV, which owns and/or operates television stations in 93 U.S. markets. Raycom Sports, Swirl Films, and RTM Studios join Tupelo in the Gray production family.
Servizzi also serves as technical producer for Full Court Press with Greta Van Susteren, a Washington D.C. based syndicated program broadcast to 76% of the country.
Prior to forming WebStream Sports, Servizzi was an instructor at Butler University, leading courses in video production, multimedia development, and professional development. While at Butler, Servizzi oversaw student-produced coverage of athletic events.
Servizzi holds a B.S. in telecommunication arts and an M.S. in education, both from Butler.