Mark Fragale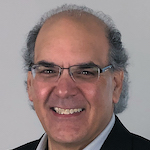 Rochester Institute of Technology, Associate Director of University Sports and Events Production
Mark Fragale has been at Rochester Institute of Technology in Rochester NY since 2002. Starting the RIT SportsZone program with a hand full of students and transforming the program into a 65 student production team with three full time staff members, has been an remarkable experience. As executive producer, Fragale has directed the many aspects of sports video production from a sports news magazine program to live broadcasted sporting events on local broadcast stations and streaming services.
RIT SportsZone has received va­­rious awards and recognitions over the past 18 years. From acquiring new broadcasting equipment and building out their production truck, to rendering a new broadcast facility, Fragale has been an integral part of the producing, directing, and mentoring of many students that have worked within the SportsZone brand. The SportsZone program was originated to give students a real-world experience and numerous alumni have gone on to work in the broadcast profession. Fragale oversees the six different departments of SportsZone including video production, asst. producers, graphics, photography, video editors, and marketing.
Fragale comes from a background in Los Angeles as a camera operator and moved to RIT to start the SportsZone program from the ground up. He is member of the College Sports Summit advisory board and holds a master's degree in communications.