Matt McEwen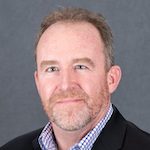 TVU Networks, VP of Product Management
Matt McEwen leads the TVU Networks Product Management team. He has over 17 years of experience developing award-winning broadcast and professional video products.
Prior to TVU Networks, McEwen was director of product management at Focus Enhancements, a leading manufacturer of professional video solutions that was acquired by Vitec Multimedia in 2010. While at Focus, he was responsible for multiple product lines including the award winning line of FireStore DTE Recorders, which was a key technology in the transition to tapeless acquisition in the broadcast market.
Before Focus, McEwen held various product management, marketing, and technical positions at Videonics, Production Audio Video Technology (Australia), and Ampex.
McEwen has a B.A. from Swinburne University of Technology in Melbourne, Australia.