Tom Buffolano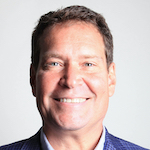 LTN Global, Vice President, Sports
Tom Buffolano is a highly experienced entertainment and sports media executive. He has held positions in sales, marketing, business development, production, and programming with MTV Networks, CSTV/CBS College Sports, and various other companies.
Buffolano founded and chaired the SVG College Sports Summit from 2009 – 2014 and still holds the position of chairman for the SVG College Sports Media Awards. He joined LTN Global in 2014 to start the sports division.
Buffolano is a graduate of Boston College and currently resides with his family in Brooklyn, NY.